The web dashboard camera storage tile has a couple new features which we explain below.
Camera Storage
This metric is a carry over from the Boring Client local dashboard. This section shows the cameras which were consuming the most or the least amount of storage on your recording servers. The list is ordered by most consuming by default but you can order by least consuming to see the reverse.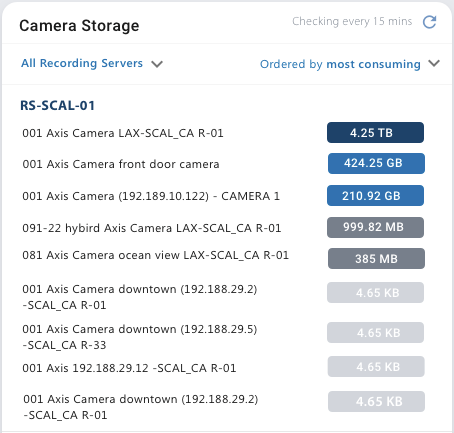 Cameras without saved video
While you do have the option of ordering the camera storage list by least consuming to see those cameras which are consuming the least amount of storage, we felt that calling out cameras that are consuming no video storage (not recording) should be called out separately. While this is not always a bad thing, this call out is blue in color.

SD-card alerts
SD-cards are used widely in Milestone XProtect for edge storage. Edge storage is perfect for redundancy of recordings but presents a big challenge in verifying that the SD-cards are actually working as intended. You can log into each camera one by one or you can use the Boring Toolbox.
Supported cameras
SD-cards are monitored using the Boring service host and by default:
Checks occur every 15 min
Each SD-card is only checked once every 24 hours
This is configurable in the C:\ProgramData\The Boring Lab\Boring Service Host\appsettings.json
Monitored metrics
Status (working, no SD card, can't connect, SD in error)
Is encrypted
Is recording
Is recording because [trigger vs continuous]
SD card size
SD card free space
Current alerts
Currently we are alerting on SD-card status only but in the coming releases we will expand this.