Supported starting : 5.20.1109
By default Boring Toolbox uses HTTP to download scheduled reports from the management server. If you would prefer to download the reports via HTTPS you can do this with a simple configuration file change.
Note: You will need to provide your own SSL certificate in order to avoid seeing the security warning.
How to configure HTTPS download
On the management server browse to : C:\ProgramData\The Boring Lab\Boring Service Host
Open appsettings.json in your favorite text editor
For new installs of server 5.20.1109 or above

Find the section labeled Subscriptions
Update GenerateHttpsLinks from False to True
It should look like this:
  "GenerateHttpsLinks": true
For an upgrade from a previous version:

Find the section labeled: ReportRuns
Underneath the entry for RunInterval paste the below:
"Subscriptions": {
"GenerateHttpsLinks": true
},
When done it should look like this: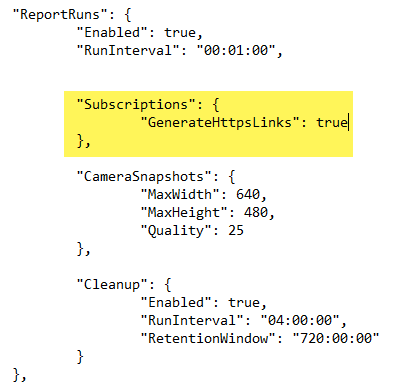 Save the file and restart the Boring Service Host service