The BoringBot is a service that connects your on-premise Milestone XProtect video management system to Slack, giving you an always-on, on-the-go ability to monitor and manage Milestone XProtect via The Boring Toolbox.
What is Slack?
Here is how Slack describes itself, "Slack is a messaging app for business that connects people to the information they need. By bringing people together to work as one unified team, Slack transforms the way organizations communicate."
Why Slack?
If you are reading this article, you probably already use Slack every minute of every day, so why not monitor and manage your mission-critical video management system from the same place, Slack? By using Slack to receive live monitoring notifications, scheduled reports, and query XProtect for status information, we (Milestone admins) can now work together to fight fires without copying/pasting or emailing.
What can you do with the BoringBot?
Collaborate on health monitoring events
The Live Monitoring service of the Boring Toolbox is critical in ensuring your video is there when you need it most. We spent a lot of time perfecting our email notifications and brought that same mindset to our Slack Live Monitoring notifications. Learn more about what you can monitor with Live Monitoring and Slack.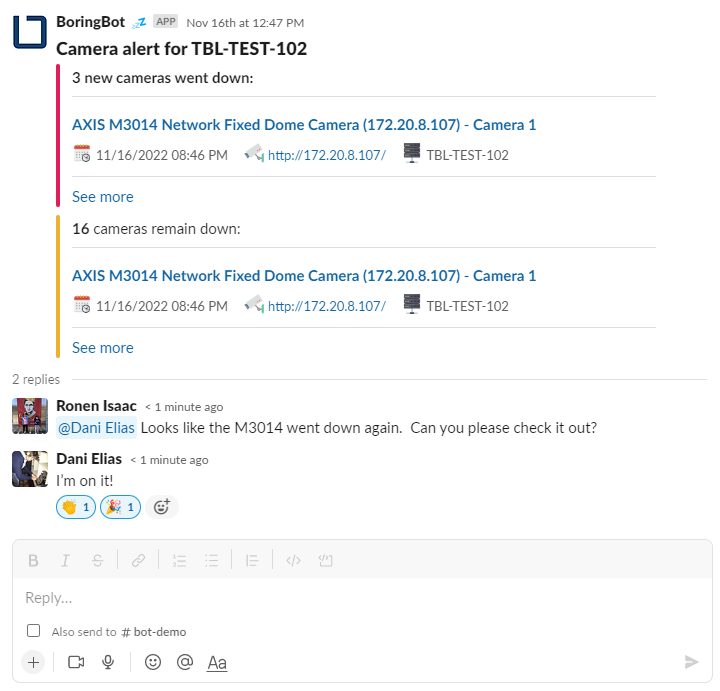 Receive your Milestone audit reports wherever you are
The customizable Boring Toolbox reports can not be scheduled to arrive in your Slack channel as opposed to an email or a network share. This allows you to access and review the reports wherever you are and collaborate on the results. Learn more about The Boring Toolbox's powerful reporting.

Monitor multiple XProtect management servers in the same space
Monitoring the health of multiple management servers can be challenging, but with the Boring Toolbox and BoringBot, you can now monitor all of your management servers in one place, your Slack channel.

Get the status of your XProtect servers in a flash with slash commands
Slash commands in Slack allow a user to execute actions in the app. Here is what you can do in BoringBot.
/boring-connect-server

This command is only used the first time you connect the Boring Server to the BoringBot. This command creates an entry in the BoringBot with your XProtect management server name and GUID.

/boring-disconnect-server

This command disconnects the Boring Server from the BoringBot. This command will delete the server name and GUID record from the BoringBot.

/boring-list-servers

Lists all the Boring Servers connected to the BoringBot

/boring-camera-status

This command allows you to select a management server, search for a specific camera by name or IP address and request a particular camera's status in real-time. The camera status can then be shared on the Slack channel if desired.

/boring-vms-status [server-name]

Request the status of all connected XProtect management servers or only a specific one by adding the server name after the command.
This command includes the below information:

Cameras not providing video
Recording server offline
Cameras in maintenance mode
Recording servers in maintenance mode
Start using the BoringBot
The BoringBot is easy to add to your workspace and get started. Here are easy step-by-step instructions.
Pricing
The BoringBot for Slack app is free with your subscription to the Boring app service. For more information about the Boring app service, please contact us here.
What data does BoringBot collect?
The BoringBot collects your management server's name and GUID from Milestone. This information associates your site with your workspace and allows you to run commands on specific management servers. See more in our privacy policy.