Whether you have one site or many, you will always need to configure a parent site. A configured parent site is what allows the Boring Windows services to connect to Milestone XProtect and retrieve information about the VMS. Here you will also set up email server configuration, live monitoring emails and notification settings.
Configuring a parent site
Install the Boring Services on the XProtect Management Server that you would like to make a parent
Open Boring Toolbox
Connect to the XProtect Management Server
On the left navigation, Click Managed Sites
Click Add Parent Site
In the Managed Site Configuration dialog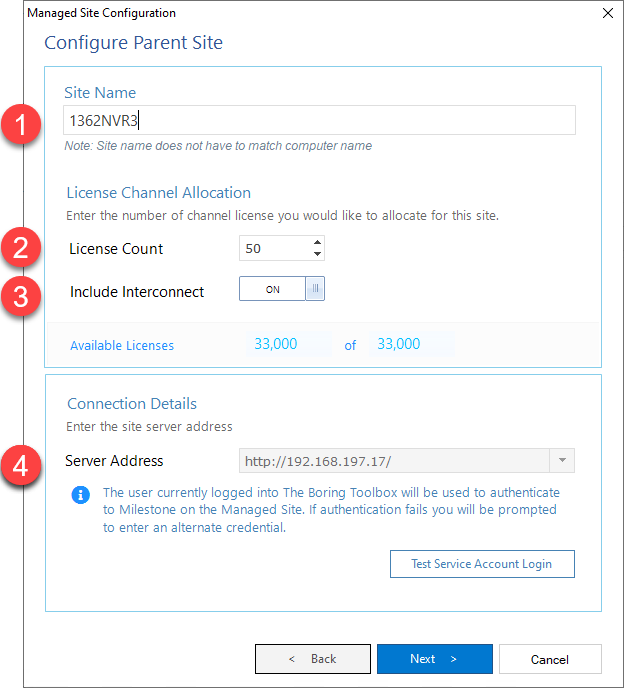 Site Name

This is a nickname you would like to give the site and does not have to match the host name of the computer

License channel allocation

At this time we do not have the ability to set licenses automatically so you need to allocate parts of your overall license to each of your sites
All background services abide by this license allocation so be sure you have allocated enough licenses per site

Include interconnect (yes or no)

When set to "on" you will see interconnected devices throughout the Boring Toolbox including live monitoring and reports. When off, interconnected devices will be filtered out which is recommended when using multi-site management (Default = On)

Connection Details

Here you will enter the information of the management server you would like to make a parent
If this is the parent site this should be the server you are currently connected

DO use the IP address of DNS name of the server, DO NOT user localhost or 127.0.0.1

If this is a managed site enter the IP or DNS name of the remote server

The Boring Toolbox will then attempt to connect to the management server using the user credentials you used to log into the Boring Toolbox.

If the current user does not have access to the remote server you will be asked for credentials that do have access to the management server

The Boring Toolbox will test the connection for you when you click "Next"
Click "Next"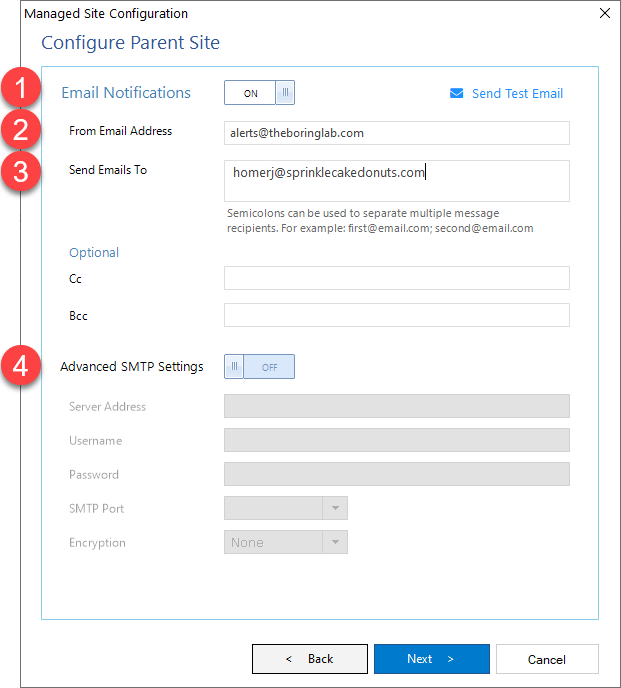 Toggle the switch to turn on email notifications
Update the FROM email address (default = alerts@theboringlab.com)
Change the TO email as needed

Add multiple TO emails addresses by separating them with a semi-colon (;)
Optionally, add CC and BCC

Optional, turn on Advanced SMTP settings


When you enable email notifications, by default Boring Toolbox will send emails through Boring SMTP servers so there is no further configuration necessary. However, if you want to use your own SMTP servers you can do so by clicking the toggle next to Advanced SMTP Settings and changing it to "on". Once on you have the options to use your own organizations SMTP settings.

Once done, click "Send Test Email" to test your configuration

The email will be initiated from the Milestone XProtect Management Server

Click "Next"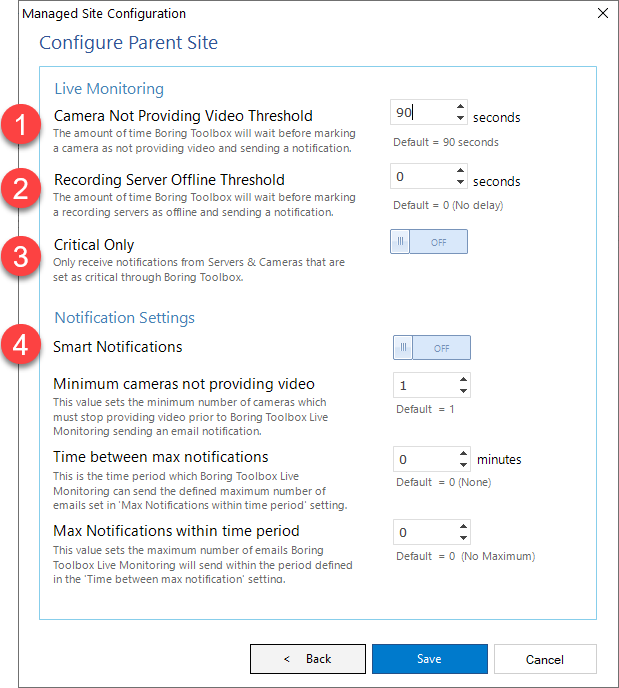 Camera not providing video threshold

The amount of time Boring Toolbox will wait before marking a camera as not providing video and sending a notification (Default = 90s)

Recording server offline threshold

The amount of time Boring Toolbox will wait before marking a recording server as offline and sending a notification (Default = 0s)

Enable Critical Notifications
Enable Smart Notifications

If Smart Notifications are disabled (default) there are several settings you may adjust to manage notification delivery

Minimum cameras not providing video

This value sets the minimum number of cameras which must stop providing video prior to Boring Toolbox Live Monitoring sending an email notification. Default is 1.

Max Notifications within time period

This value sets the maximum number of emails Boring Toolbox Live Monitoring will send within the period defined in the "time between max notification" setting (Default = 0 = No Maximum)

Time between max notifications (seconds)

This is the time period, in seconds, which Boring Toolbox Live Monitoring can send the defined maximum number of emails set in "Max Notifications within time period" setting (Default = 0 = None)

Click "Save"
Creating a managed site
A managed site is another XProtect Management Server that you would like to see in the Global Dashboard when you log into the parent and which you would like to manage in Boring Toolbox.
Setting up a managed site is very similar to setting up a parent. The only difference is that you will click the Add Managed Site button, which is now located underneath the parent site information you just added.
Once the managed site is added a couple things happen.
The parent creates a connection to the managed site
Parent pushes notification and live monitoring settings to the managed site
Scheduled reports and live monitoring are ready for use on the managed site
The managed site is added to the global dashboard when you connect to the parent site