What is Critical Mode for Notifications?
Critical mode is a global setting that is designed to only send live monitoring notifications for devices marked as critical.
What does it do?
When enabled via the managed site configuration, critical mode mutes all live monitoring notifications system-wide. The Milestone administrator can manually select one or many hardware devices or recording servers and mark them as critical devices. Standard live monitoring notifications are then enabled on those devices marked as critical.
Why should you use critical mode?
In conjunction with Boring scheduled reports, Critical mode for notifications allows Milestone XProtect administrators to set a different level of importance to the devices in their VMS. By doing so, they can receive instant alerts when a critical device has a health issue and then review the health events of less critical devices once a week using our scheduled reporting functions.
An example of this requirement would be a police department where the jail cameras must be on 24x7x365 but the PD cameras could potentially stand to be down for a week. In such a case the Milestone admin would:
Enable critical notifications under managed sites
Set the jail cameras to critical
Create a scheduled report for the entire VMS to deliver system configuration and health audits once a week to their email inbox
How to enable critical mode for notifications
You enable critical mode globally via the managed sites section and then manually select which elements are critical in the hardware section of the Boring client.
Managed Sites configuration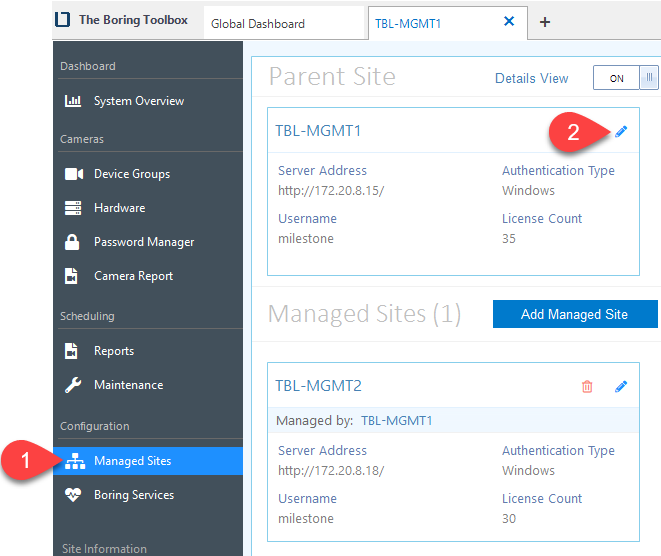 Browse to Configuration > Managed Sites
Either create a parent site, create a managed site or if you have a site already created click on the pencil icon, as shown above
The managed site configuration will pop up. Follow the links to learn more about configuring a managed site and live monitoring
You will enable critical mode on the third and final step of the wizard
Flip the "Critical Only" switch to ON to enable critical mode for notifications

Click Save
Selecting Critical Hardware
Once you have enabled critical mode you will need to elect elements in your VMS to be critical in order to receive live monitoring notifications.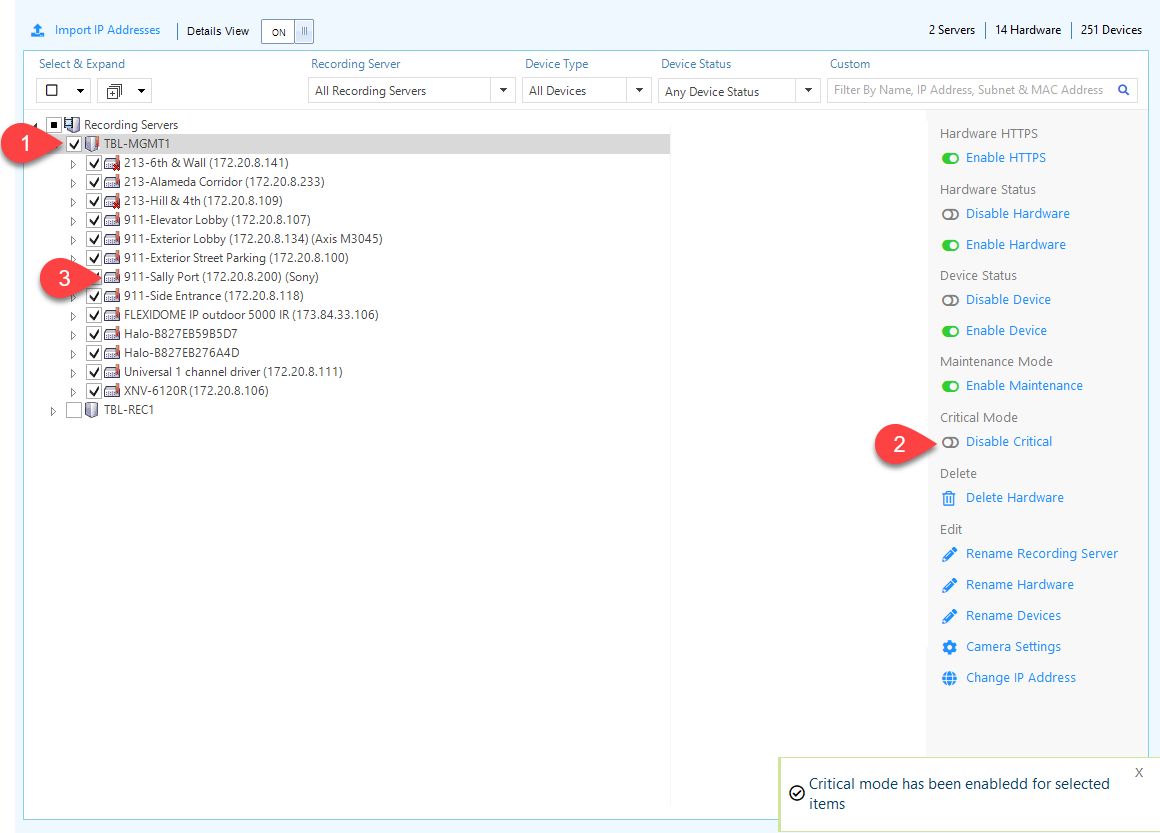 Select the devices you would like to set to critical mode. This can be individual cameras or an entire recording server
Click "Enable Critical"

When critical mode is already enabled the prompt will change to "Disable Critical" (like in the image above)

A red ribbon icon will be displayed on all devices with critical mode enabled