When installing or upgrading the Boring Server, the installer gets stuck on the installation of the .NET 6.0.11 prerequisite with the message: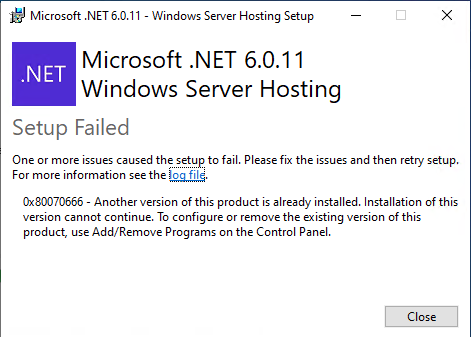 One or more issues caused the setup to fail. Please fix the issues and then retry setup.
0x8007066 - Another version of this product is already installed. Installation of this version cannot continue. To configure or remove the existing version of this product, use Add/Remove Programs on the Control Panel.
Cause:
Milestone has confirmed this to be due to a corrupt installation of .NET 6.0.16, and we have found this to occur occasionally when the user recently upgraded to XProtect 2023R2.
Fix:
The workaround we have found to work is reinstalling .NET 6.0.16.


Uninstall and Re-install ASP.NET Core Runtime 6.0.16
Verify that you are running .NET 6.016
Stop all Milestone services on the management server. See the screenshot below.

Download ASP.NET Core Runtime 6.0.16 Windows hosting bundle
Run the ASP.NET Core Runtime 6.0.16 installer and choose "Uninstall".
After the uninstall is complete, run the ASP.NET Core Runtime 6.0.16 installer again, but this time choose "Install".
Re-install Boring Server Complete
Run the "Boring Server Complete" installer and complete the installation.
Start all the Milestone services that were previously stopped.
Verify you can login to Milestone starts as expected and you can login to the Milestone management client.
Verify you can login to Boring Toolbox after installation is complete.