To get going in three easy steps
Download
Install API
Install Client
Download
There are two parts to The Boring Toolbox the API and the Client (more here).  Please be sure to download both.  Here are the URLs to the latest versions of each:
Install the API
Move the service installer on to your Milestone Management Server
run BoringServiceInstaller-x.xx.xxxx.exe on to the Milestone XProtect management server
Then click Run Anyways
Accept the EULA
Click Next and complete the installation
If Upgrading from Service 3.19.0409 or below
If upgrading from version 3.19.0409 or below you will see the below image.  Click "Yes".  This will install the new IIS Application Pool and will update the binding on the existing web service.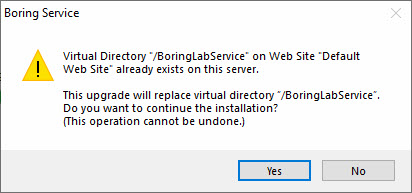 Install the Client
Copy the Client installer to the machine you use to manage Milestone XProtect
If on Windows 10 you may see the same Smartscreen blue box when installing.  Similar to above click More Info and Run Anyways.
Accept all defaults to finish the installation
That's it!  You can now check the rest of the KBs for Logging In, Application Layout to get familiar with the Client.