Let's walk through the steps for installing Boring Toolbox in a Microsoft Failover cluster. This process is designed to ensure a seamless transition of services between Node 1 and Node 2 in the event of system shutdowns or failures.
Installation on Node 1: The first step in this process is installing the Boring Server Complete software package on Node 1 of your cluster. This is the first of your two failover nodes. You simply need to run the installer and follow the prompts provided.
Installation on Node 2: Next, you'll need to repeat the same installation process on Node 2. This is the second node of your cluster that will act as a backup for Node 1.
Setting up Service Dependencies: Once the Boring Server Complete is installed on both nodes, it's time to set the Boring services as dependent resources to the Milestone Management Server. This is crucial because it ensures that the Boring services will always follow the Milestone Management Server during failover events.
Connecting to the Milestone Cluster: Now, you should connect to the Milestone cluster using Boring Toolbox. Once connected, you'll want to

create a parent site

. This step allows Boring Windows services to turn on.
Starting Services: After setting up the parent site, you can start the Boring services on your primary node. In this case Node 1.
Testing Failover: To verify everything works as it should, perform a shutdown on Node 1. This should automatically trigger a failover to Node 2, and the services should smoothly transition and startup there.
Refreshing Boring Client: After the failover event, you should refresh your Boring Client to check the data retrieval. Ideally, the data should be retrieved as expected without needing to restart the client. This verifies that your setup is working correctly.
Repeating the Process: To make sure this wasn't a one-off success, try repeating the failover process a few more times. If all goes well every time, congratulations! You've successfully set up Boring Toolbox on a Microsoft Failover cluster.
Below is a screen grab of what you should expect to see.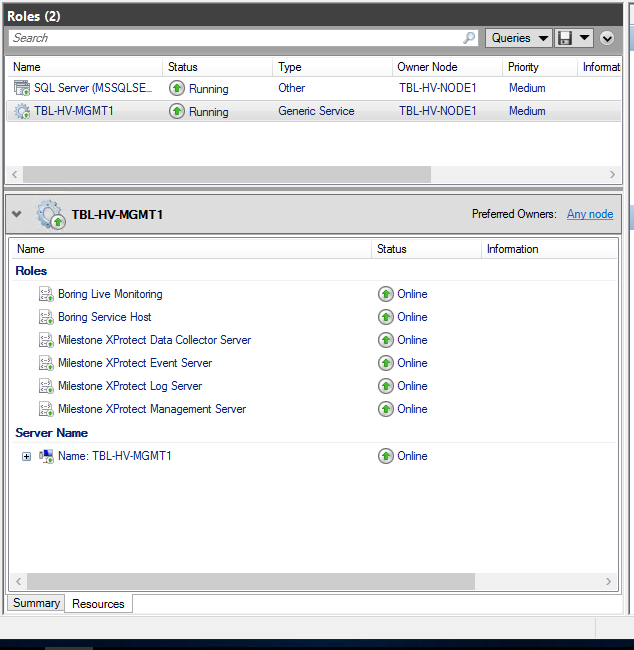 Remember, the aim of setting up Boring Toolbox on a Microsoft Failover cluster is to ensure service continuity in case of any node failure. So, don't shy away from testing the setup rigorously. It's always better to find and fix issues now rather than when you're relying on it in a real-world scenario.